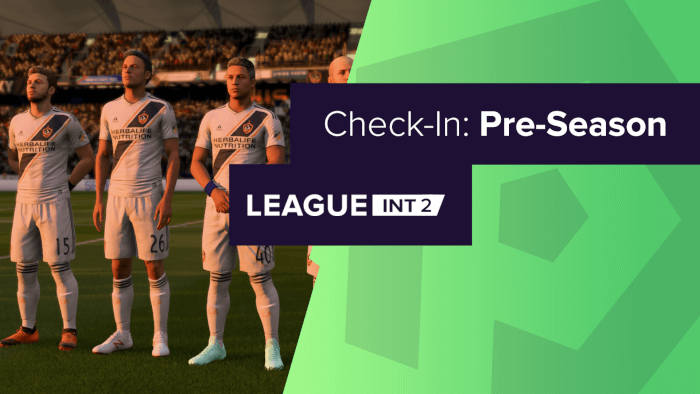 S23: Check-In | League INT2 | Pre-Season
Veröffentlicht am 17.Mar.2021
-
League News PC

von Madoorah
-
6371 mal gelesen
Hello and welcome to the ProLeague International TWO Pre-Season Check-in, in this article we will have a look at all the new and old teams that we can welcome to the second division of INT. Let's have a look!
---
Rebrand Project
Predicted finish: 1st
Rebrand Project, formerly known under the name of Unshackled, have spent their full season hiatus wisely. Making transfers during the ongoing season in which they didn't play. While some of their players were practicing at other clubs. This time Rebrand Project is back with a similar roster and some new faces to the team. With all the experience and their quantity of players I expect them to finish the competition as the champions. With a total 11 consecutive seasons in INT. 1 the team will be eager to get back to their old division as soon as possible.
Their standout players are RP-Red_Saman and Markozanis86
LIONS UNITED
Predicted Finish: 2nd
The Spanish team will play their second season in Proleague. The first being nothing short of a success. They were crowned champions in INT. 3 managing to win an impressive 17 out of their 22 games. In the qualification tournament, Lions United just barely lost to Outlawz in the upper bracket due to a golden goal in the third game. Despite the quick knock-out, a well deserved spot in the INT. 2 league will await them with plenty of challenges this upcoming season.
Players to keep an eye out for are V3NOMspain, who rolled INT. 3 last season with an impressive 17 goals and 5 assists, and his partner in crime OGT_Saulolo who contributed to 19 scorer points in just 15 games.

ESC Fireball
Predicted Finish: 3rd
The first of many new French teams in the INT league is ESC Fireball. They came off a good first season in Proleague's new FR league in which they finished 3rd and in a tough group of 6 teams during the qualification tournament, ESC Fireball again managed to finish in 3rd place meaning they qualified for the lower bracket knock-outs in which they managed to beat Orcastrated and Rebrand Project, only losing out to Hyve Central in the final. I predict, just like most of the community on our Instagram vote, that ESC Fireball will finish in 3rd place. But I don't rule out a shot at the title for the Frenchies.
Strong members of the team involve the CB pairing of FBL_NatHoon and FBL_Agonomy38

Tornado
Predicted Finish: 4th
More French teams! Tornado, formerly known as Promising, is playing their 3rd consecutive season in Proleague and they're having varying success. An impressive 5th place on their debut season in INT. 1 followed up by a less good 9th place the season after, the Frenchies now find themselves a division lower than prior seasons. Despite the drop, I expect Tornado to do well and finish just below a promotion spot. The team has gone through a lot of roster changes since its start. But that doesn't have to be a bad thing, with great players like Tornado-Akwa, Tornado-Weisko and Tornado-JordyKST they seem to have a decent squad on paper. Let's see how they do this season. My prediction is 4th.
Mav3ricks eSports
Predicted Finish: 5th
The other Spanish team in this competition is Mav3ricks. Some will already know Mav3ricks due to their recent appearances in both the Europa- and Champions league, but this will be the first time the Spaniards will join the INT league. Mav3ricks come off a great run in the qualification tournament in which they placed 2nd in their group and then proceeded to eliminate fastPay wildcats from the upper bracket having lead to the team earning a well-deserved spot in INT. 2. Their goal will be to challenge for all titles, both domestically and internationally. Ambitious plans for the Spaniards.
The key players are Matukario and former World Cup winner Mortalinho, but what stands out about Mav3ricks is their team spirit and dedication.

ICONS
Predicted Finish: 6th
ICONS is back after their debut in INT. 3 last season, the team under command of the well known Ro11ando finished in 4th place last season. Despite finishing in 4th, they performed really well in the qualification tournament in which they bested Teco Boys and OneShot FC which caused them to gain a well-deserved promotion to the second-highest division in INT. The team is well prepared ahead of this season due to the fact that they have a big squad of 22 players, most of them with prior competitive experience on teams like Lex Artis and Schiltron. Therefore I predict ICONS to finish in 6th place.
Their best players are the manager Ro11ando and everyone's favourite goalkeeper: Rustyjh67

Hyve Central FC
Predicted Finish: 7th
Just like ICONS, Hyve also played in INT. 3 last season. They finished in 5th place with just a single point less than the above mentioned team. Hyve also has plenty of experienced players in INT. 2. They formed mostly from the disbanded Renaissance. The swarm of bees has performed well in the qualification tournament having eliminated Shadow Eagles, New Dragons FC, ICONS and ESC Fireball in the final of the lower bracket. Very impressive performance. But in spite of their tournament win i think they will finish in mid table this season. They showed glimpses of hope and quality last season, but ultimately succumbed to long term consistency. Let's see if Hyve can prove me wrong.

oXmose
Predicted Finish: 8th
The second French team in this league is oXmose, the Frenchies seem to have mostly players from the formerly disbanded Allianz EA Sport so they're well prepared ahead of this INT league due to the players' recent participation in the INT leagues. Due to the teams reconstruction it will be difficult to predict the teams' consistency ahead of this season. If they can link up and create synergy they might be able to do better than their predicted finish. But I think an 8th place finish is nothing to be ashamed about for the newly refurbished French side.
Their strongest players are Xs_Pyt, better known as Platan, and Y0cass who performed well with Promising in season 20.

Synergie
Predicted Finish: 9th
After a hectic transfer window, the Frenchies now seem complete with multiple options at different positions. With a squad of 20 players this experienced side is complete and ready for the upcoming season. The Frenchies didn't have the best run in the qualification tournament, where they ended up losing to Rebrand Project in the quarter finals of the lower bracket. The team will depend on their new attacking talent SNG-Nesko, but can't go without mentioning the consistent Jo-DELAMUERTE ahead of this season. It will be interesting to see how Synergie develops throughout the season and if they manage to get enough synergie with each other.

VFC Dinamo
Predicted Finish: 10th
The first Romanian side in this list is VFC Dinamo. They are the official eSports team of FC DInamo 1948 Bucharest SA. They actually managed to become the runner-ups in their domestic league in the first season of this FIFA, so i wouldn't be surprised at all if they finish higher than currently predicted. The team will largely depend on the attacking qualities Becksu90, who performed well last season, and German cup winner with RoXoR called Son-Of-Happy7. Let's see what the Romanians can bring to the league this season! For now, I predict them in the middle of the table. We will see if they can adapt to the INT League and perform accordingly.

Orcastrated
Predicted Finish: 11th
One of the few English teams in this competition include Orcastrated, the team with the misspelled name with hopefully not miss in front of goal too often this season. The Englishmen formerly under the name of Dracarys FC have performed decently in INT. 3 last season in which they conceded approximately as many goals as the top 4 in the league, but had issues going forward. The Englishmen have plenty of experience with a lot of their players previously being active for Fake Shot FC along with some new players like the pro clubs nomad IONUT_PD.
Their best player and the cornerstone of the midfield is leth74.

FC U Craiova eSports
Predicted Finish: 12th
The other Romanian team on this list is Craiova, they are actually the most decorated team in terms of cups and trophies in their domestic league, but after their 1 season break they seem to have lost most of their old core and players. It will be a long and difficult season for Craiova, but with the help of the prolific AymanElshenawy35 and former INT. 1 champion with SimpleX: iG_ADVM. It might not look too bad for the Romanians. Let's see if they can prove me wrong and finish higher than predicted.

OneShot FC
Predicted Finish: 13th
OneShot FC did well in their first season of PL FR finishing in a surprising top 3 spot. Unfortunately for them I think they can not do the same in INT. 2. The Frenchies lost important players with the departure of Romain MSE_Dubouil to Magic Storm, Symphony-OrKTiz to Symphony and even C14_Captain to Carbon 14, aswell als oZ-Wolff leaving the team to Outlawz.
It will be a tough season for OneShot, but with players like OsT-AnnK or OsT-Muffin, there may be some hope for the team.

Majestic VFC
Predicted Finish: 14th
The rather unknown Turkish team is doing well in the community vote on Instragram, but I think they will rank lower than expected. The Turkish team were not so majestic in their first season on the Turkiye Pro Ligi during season 21 in which they finished as the 11th placed team. They can only hope for raxy1337-KHA who by the means of a doppelganger account is allowed to play for Majestic VFC to carry them to a better finish than I predict.

Ukraine
Predicted Finish: 15th
The team who doesn't hide their origins is back after a multiple season hiatus from ProLeague. After multiple seasons in INT. 1 where they finished from a 7-11th place on multiple occasions, i think they will have a tough time now that they're back. It does seem that a fair amount of the old players are still around, perhaps teamwork and long term friendship can lead to better results than I predicted.

Valley Kings FC
Predicted Finish: 16th
Valley Kings is a new side to ProLeague, the Polish team has a fair amount of players in their squad with a total of 18, simply said I think they will cut short on quality in the long run of the competition. Despite an impressive 2nd placed finish in the qualification tournament in Group C, the 12-0 humiliation they faced after vs Reckless over 2 games in the upper bracket shows they're far from ready for the big games. Let's see if the Polish side can prove me wrong and avoid relegation this season.
---
Season Prediction S23 INT2: Instagram
On Instagram, you could vote for each team on which position you see them at the end of the season. Here are the results of the community prediction!
---
Season Prediction S23 INT3: Instagram
This season, there will be no Pre-Season for League INT3. But we will show you the result of the Instagram prediction. Have fun this season!
---
5 Kommentare
17.03.2021 um 21:00
---
---